The age of the smart-everything is upon us. Smartphones, smart-watches, smart TVs… you name it, someone somewhere has probably added a smart to it. One of the most appealing ideas, of course, is the smart home. In the ideal set-up, everything is connected and can communicate with each other, with other places such as the supermarket, and, of course, with you. The ideal, however, grows distinctly less appealing when you consider both the price, and the amount of work it would take to do up the entire house.
So without further ado, we present a list of gadgets – some currently available, some coming soon – that will smarten up your home with minimal effort–and in most cases, minimal cost.
A quick note from LH Agenda…
The August Smart Lock is a lock that attaches to any existing single-cylinder deadbolt, replacing the default thumb latch. It uses your phone's Bluetooth, combined with a proprietary app, to automatically unlock your door. One of the main selling points is that as long as you have Bluetooth turned on, your door will unlock itself when it recognises your phone approaching.
The other big draw is the ability to send virtual "keys" to other people's phones–family or friends, for instance–that last for whatever period of time you specify. Given access to your housekeeper, but don't quite trust him or her? You can view a full log online of everyone who's gone in and out of your house, and when. Or, if you prefer to do things in a more flashy manner, you can also remotely unlock the door for them, even if you're in another city.
The August Smart Lock will be available early 2014, but the company is taking preorders now.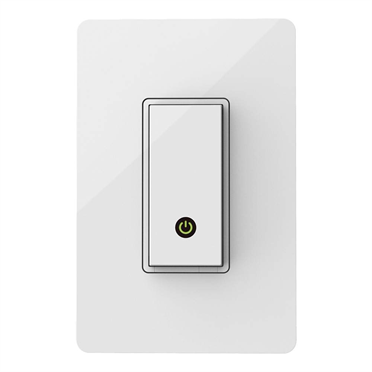 The Belkin WeMo Light Switch allows you to control your house lights with an app on your phone. It replaces the standard light switch, and once installed, you can hop on the app anywhere there's an internet connection and control how and when your house lights turn on and off. You can also physically press the switch, of course.
A quick note from LH Agenda…
You can set detailed schedules via the app, with different times for different days if you so wish. Or if you're away, but want to make it look as though you're home, you can go crazy playing with your house lights from your phone.
Do note, however, that you can only control the lights which you've hooked up to a WeMo Light Switch. Yes, that means replacing all the light switches in your house, if you want full control.
The Belkin WeMo Light Switch is currently available from Belkin's website for $69.95 a switch.
Imagine getting a tweet, text or email when your washing machine has finished a cycle, or when the mail comes, or perhaps each time someone opens one of the doors or cupboards in your house or office. And that's only the tiniest fraction of the possibilities of this little box.
Twine is, quite simply, a box with sensors–some are built in, others plug in to its jacks. The concept is simple. However, what makes this especially brilliant is the simplicity of its app. It's made so that any non-tech-savvy person can instruct it to do something such as:
WHEN the box stops sensing any vibration, THEN send a text that says "Your washing is done".
Or perhaps:
WHEN the magnetic switch is opened, THEN send an email that says "Alert! Alert! The pantry is being raided!"
The basic box comes with sensors that measure the temperature, the amount of vibration, and which way up the box is facing. You can also get add-ons that plug right in, such as a magnetic switch or a moisture sensor. As for what you can use them to notify you of–your creativity is the limit!
Twine is currently available from Supermechanical or Amazon, at US$124.95 for the basic box. Yes, they do ship internationally!
There are many other nifty smart home gadgets out there, though quite a few aren't available within Australia–the Nest Thermostat and Nest Protect (a smoke alarm) are good examples.
How about you? Do you have a favourite gadget for your home? Share with us in the comments!
Featured Image Credit: Paul Boag
Leanne Yong
Leanne Yong is an aspiring author currently working in the field of IT consulting. She loves games, gadgets and technology in general.